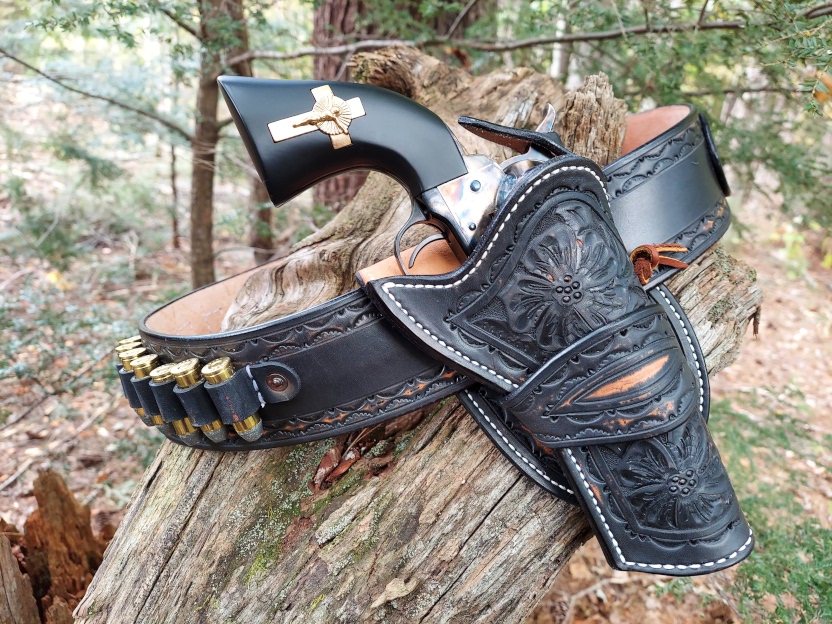 Frank.
I received my "Ben Wade Rig" today. I am overwhelmed at how absolutely beautiful it is. I'm amazed at your flawless craftsmanship. I found myself looking at the fine detail for quite sometime before I tried it on. It fits perfect.
What you create shows that talent is not invisible. It also shows others that you have the rare ability to put your Heart and Soul in the work you do. I am truly honored to have a part of that.
Thank You
Kathy Goodrich
Swanzey, NH


---

Hello frank,

Sorry for the really late email, I just wanted to say thanks for the holster and that I loved it! It's beautiful, Your works second to none brother, I really like how you attach the retention strap with a Chicago screw, its perfect for me because I'm able to remove it when I'm just shooting steel and I'm taking the gun in and out of the holster yet I'm able to put it on really quick when I carry it out in the field, and like all my holsters I plan to keep for life I've already personalized it with my initials.

Take care,
Alex Gallardo
Arvin, CA.


---

Frank,
I received the three holsters yesterday. First of all, NO issues. Just want to say they are outstanding and exactly what I wanted. The two single action holsters were pretty stiff and took a little effort to insert the guns. Left the guns in the holsters all day and as I expected they became easier to remove and insert. I tried them on my (gun)belts and you put the tabs in exactly the right spots.

The pattern you recommended for the Ruger Standard .22 Semi-auto really hit the spot. Just what I wanted. You should put that one on your website.

To say I am pleased would be an understatement. And, the 3-1/2 week turnaround was fantastic! Would it be okay with you to post the attached pictures on Singleactions.com with credit given to you as the maker? I would love to let others know about your work.

Again, thank you for the fast service and three very fine holsters.
Randolph Gates
Denham Spings, LA.


---

Holsters For The Modern Shooter. Book by RK Campbell: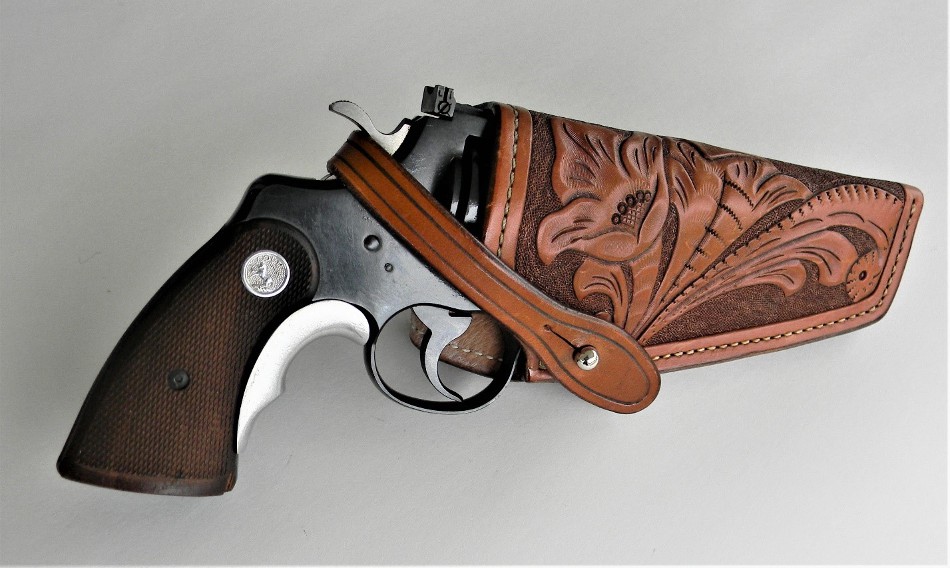 Rocking K Saddlery's Threepersons. Beautiful and very useful.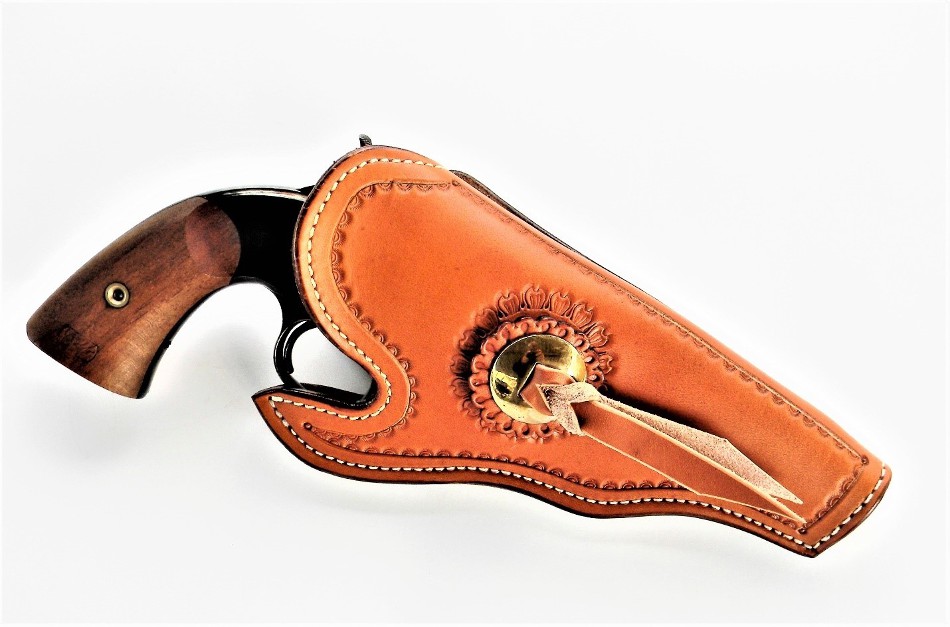 Rocking K Saddlery's artwork is evident in this holster.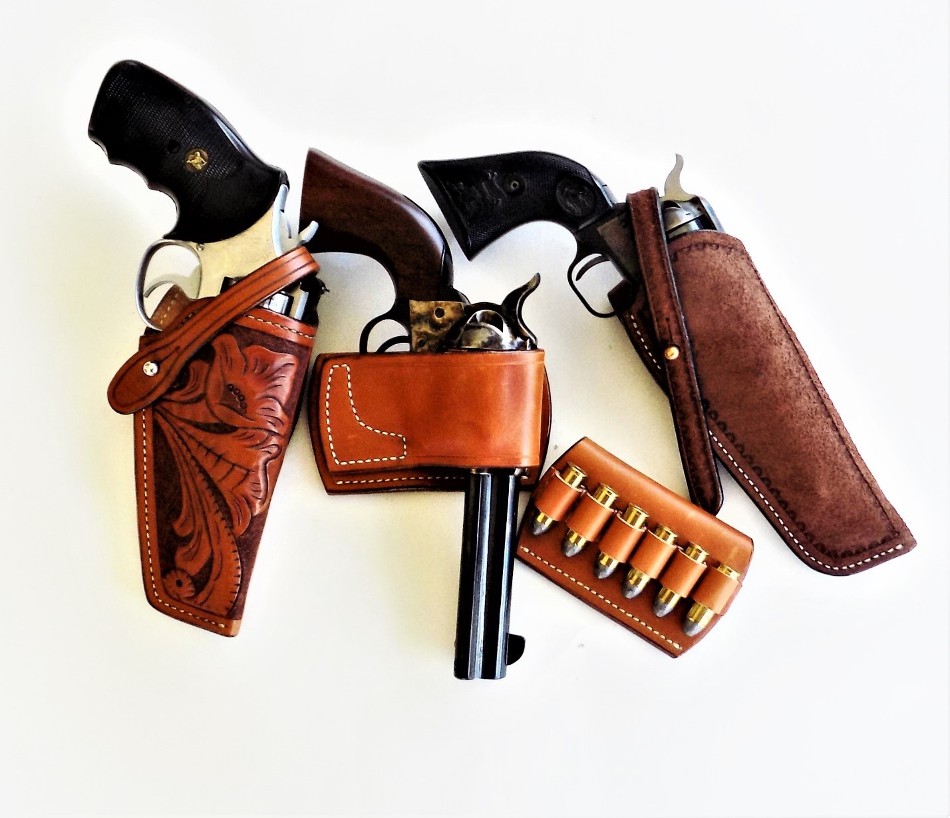 A Rocking K Yaqui slide for the SAA and an ammo carrier flanked by two versions of the classic Threepersons holster. For field and range use these are excellent choices. Variations on the Threepersons were standard police duty holsters, even used by detectives, for about fifty years.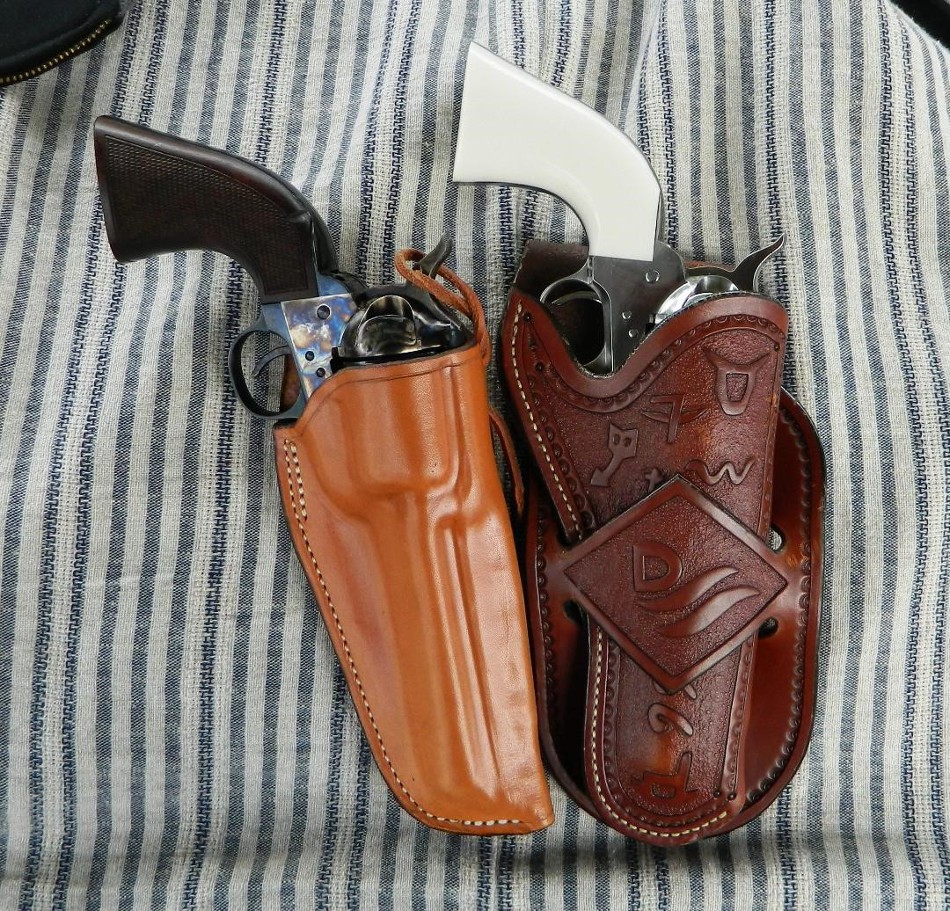 Right, the Rocking K Cattlebrand.


---

Frank:

I received the Holster today and it is magnificent. The partial trigger guard welt that you added shows the professional knowledge that you have of your craft. I want to thank you again for this pleasurable experience of doing business with you.
It makes me feel good, especially during trying times like we are going thru now, that their are people like you still around.

Thank You
Thomas W. Snider
Huntington Beach, CA.


---

Featured in the Shoot ON article "Old West" Revolvers LIVE! by Bob Campbell


---

Bob Campbell's article Review: Cimarron Lightning over on Cheaper Than Dirt! features the Tom Threepersons holster.


---

Frank,
received my holsters and belt rig today. can't tell you how happy I am. They are just perfect. the craftsmanship is second to none. I own several expensive and some not so expensive SAA rigs and this is the one I will have the most pride in. Thanks for a job well done!!
Grover Smith
Oklahoma Outlaw
Tecumseh, OK.


---

Hi Frank,
I just received the gun rig! More beautiful in person than the photos you posted on FACEBOOK, and the smell... man if you could bottle that and sell it for men's cologne you'd be a millonaire in no time. Thanks for the rig, you did a great job again.
Best Regards,
Bill Orgain
Clarksville, TN.


---

Frank,
I received my holster for a 5 inch N frame on last Wednesday and it matched up perfectly with my 1930's S&W Heavy Duty, 5 inch barrel in 38/44 caliber. We have had a few sunny days and I am well on my way to breaking it in. I am very pleased with the quality of the leather and the wonderful workmanship. I am really looking forward to receiving my next holster in a few weeks.
Thanks again
George Ferguson, Reidsville, NC.


---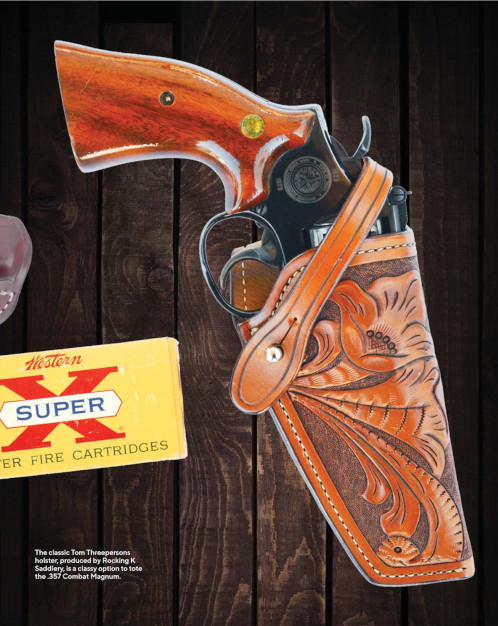 Gun Digest 2019, 73rd Edition: The World's Greatest Gun Book! PP 163 & 167 "I carry the revolver in a Tom Threepersons holster by Rocking K Saddlery when on the trail or just hiking for fun. This holster is a cut above the ordinary and offers real security and a high ride."


---

Jim Hoehn wrote an article for the U.S. Department of Veterams Affairs entitled Saddling Up for Creative Arts Festival


---

"I spent a few years searching the Web, gun shows and talking to crafters anywhere I could find them. I found plenty of capable artists but none could or would make the holster and belt right I'd formed an image of in my mind. While perusing gunbroker.com I saw a few listings for rigs and holsters, something about them looked just right. Frank got in touch with me right away after my initial contact and seemed to know exactly what I was talking about. He stayed in touch with me throughout the process and offered helpful suggestions regarding what it would require to transform my mental image into a practical and functional workpiece. I almost can't believe he was able to produce it, despite the fact that I have it! It's unique and, in my opinion, a very eye-catching rig; it's sturdy and I imagine that I'll be able to use it for years to come and eventually pass it on to a child or grandchild. It's an awesome piece of workmanship that I am proud to have. For a nice touch, I had Frank also produce a matching guitar strap. Rocking K rules

I hope to do business with you again next year. I'm really grateful for your help and your master craftsmanship. Merry Christmas!"

Ronnie Adams
Graham, NC.



---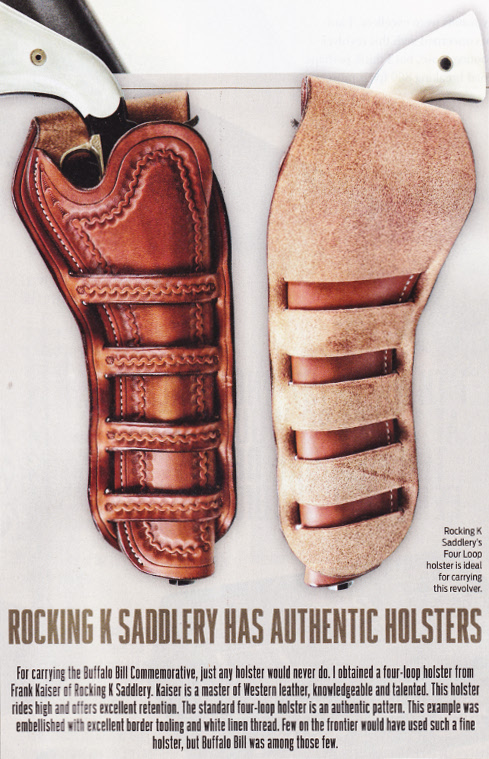 Excerpt from Gunslingers Firearms of the Old West, pg. 87. Winter 2017. Used with permission.


---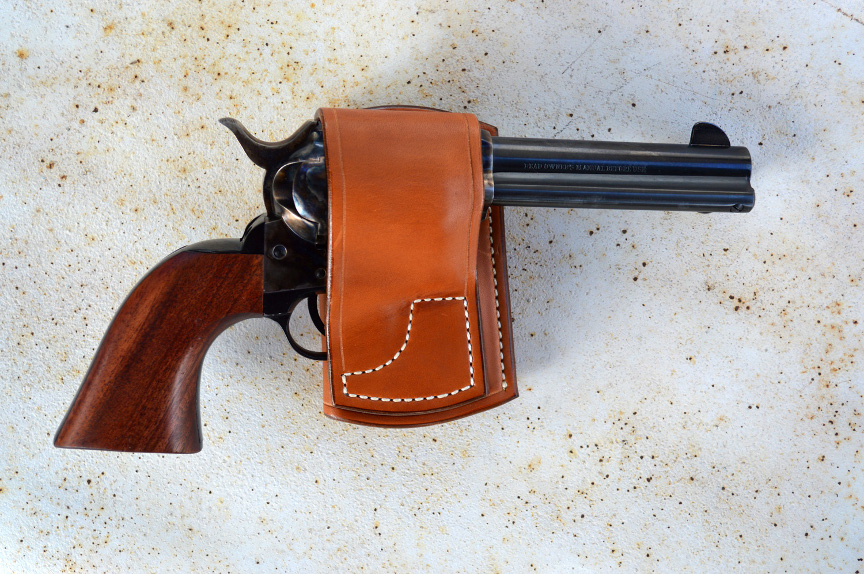 Review: SIG Sauer Big Bore Defense Loads — .44 Special and .45 Colt
"The Traditions revolver and Rocking K belt slide are good companions."


---

Steve Walker, Bradenton, FL.
I can say without a doubt in my mind, the shoulder holster I got from "Rocking K Saddlery" is nothing less than a work of art! The precision,the intricate details, the sewing, finish, the hand rubbed edges, the fit and finish of smaller pieces that are seamless, the top quality "choice" cowhide, and just the overall excellence put into my holster is hard to comprehend in this age of "disposable everything". This holster is of "Heirloom" quality that I will be proud to hand down to one of my sons. And, it will be around long after they are gone. If you want real leather that has been worked by a true "craftsman" then you MUST seek out this man's work. This is not some cheap leather from some over seas "sweatshop" that will fall apart in a year or two. This is a holster that "screams" quality from every aspect. Do not consider this a purchase, but rather an "investment" in the finest leather work that can be had. Why buy an expensive gun, and stuff it into a "plastic" Kydex holster or something similar when you can go first class, and "compliment" your firearm as well as showing that you have impeccable taste in the fine things. Look no further, as you have found it in "Rocking K Saddlery". Custom made to your order if desired. In short, they are the very BEST available, PERIOD!


---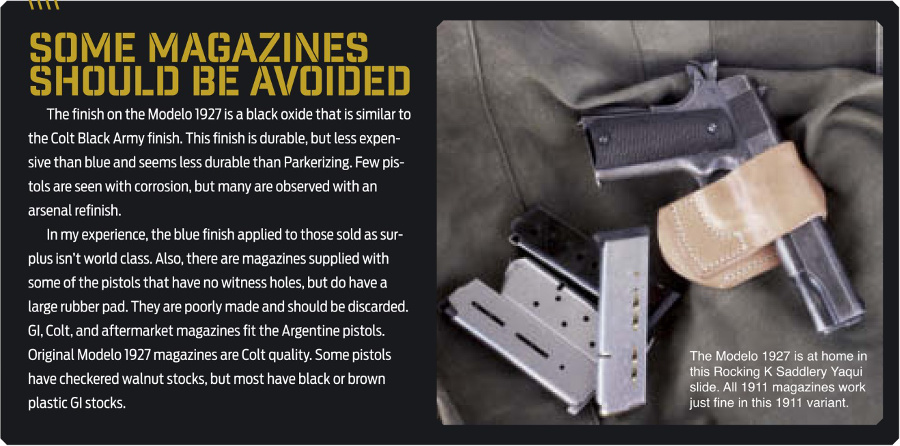 Photo from Inside Military Surplus, Fall 2016. Used with permission.


---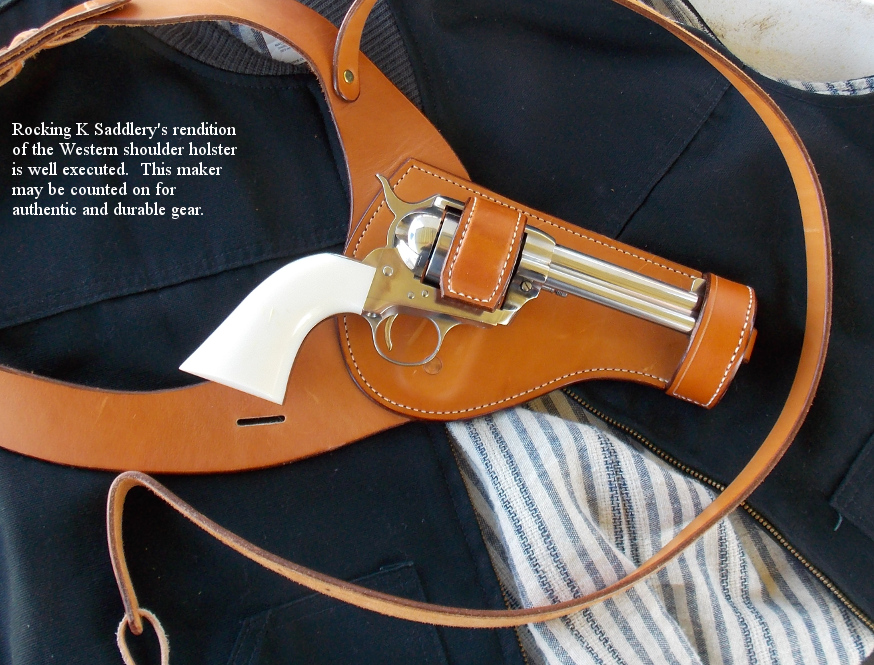 Caption and photo from Summer 2016 Gunslingers - Firearms of the Old West (pp92-93). Article by Bob Campbell. Used with permission.


---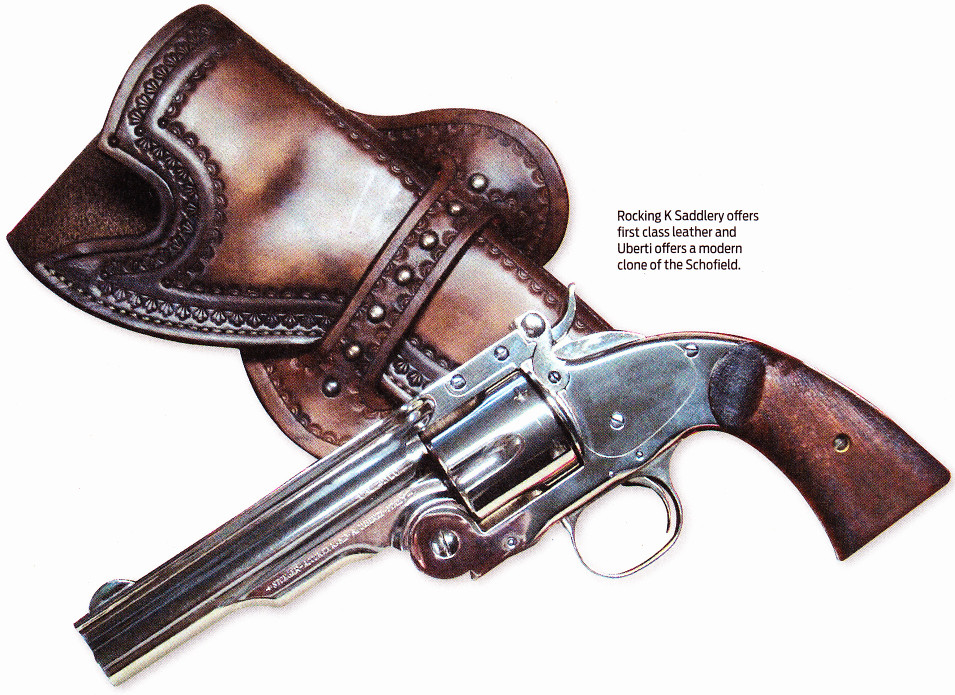 Caption and photo from Winter/Spring 2016 Gunslingers - Firearms of the Old West (p80). Article by Bob Campbell. Used with permission.


---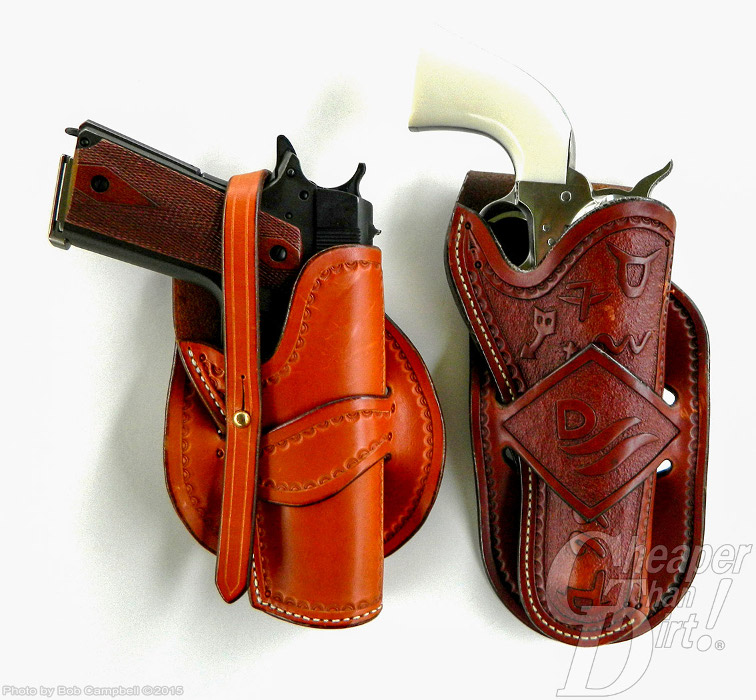 Cimarron's Wild Bunch 1911
These western style holsters from Rocking K Saddlery make for a Wild Bunch day at the range!
This period reproduction holster from Rocking K Saddlery is a good addition to the Cimarron pistol.


---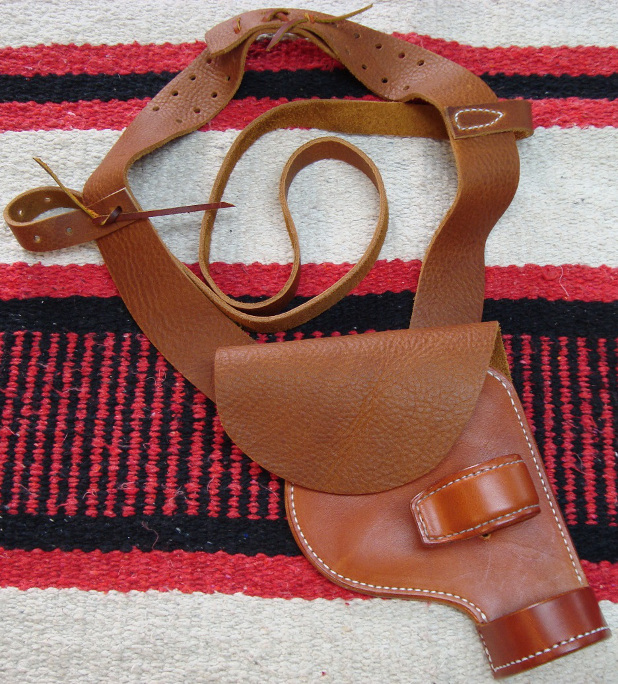 "Other saddlers and holster-makers, including the legendary H.H. Heiser of Denver, Colorado, quickly copied the skeleton design. Heiser made several versions, including one with a soft leather flap to cover the hammer, cylinder and grip area. This was used to prevent the gun from catching on clothing as well as protect the pistol from perspiration. The H.H. Heiser design in this article was duplicated for a Sheriff's Model with a 2-inch barrel by Frank Kaiser of Rocking K Saddlery in Milwaukee, Wisconsin."

Excerpt and photo from Guns of the Old West, fall 2015. Article by Dennis Adler. Used with permission.


---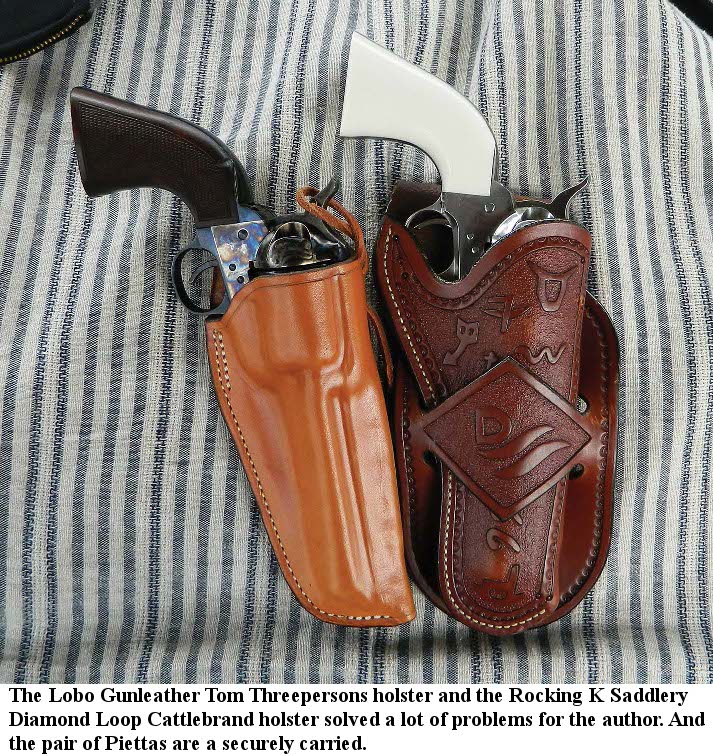 "When carrying the Traditions revolver just any holster will not do. The Rocking K Saddlery Diamond Loop Cattlebrand holster is an extraordinary mix of history and art. Far from a basic Mexican Loop, the Cattlebrand holster features a diamond pattern loop. The holster is covered with popular cattlebrands of the Old West. Few working cowboys would have owned sucha holster but experienced lawmen and cattlemen would have. The fit, finish, and stitching are flawless. This is one of several holsters I own from this maker, and all show good workmanship. "
"The selection of authentic holsters from this maker is excellent."

Excerpt and photo from The Gun Mag Volume 4, Number 46. Article by R.K. Campbell. Used with permission.


---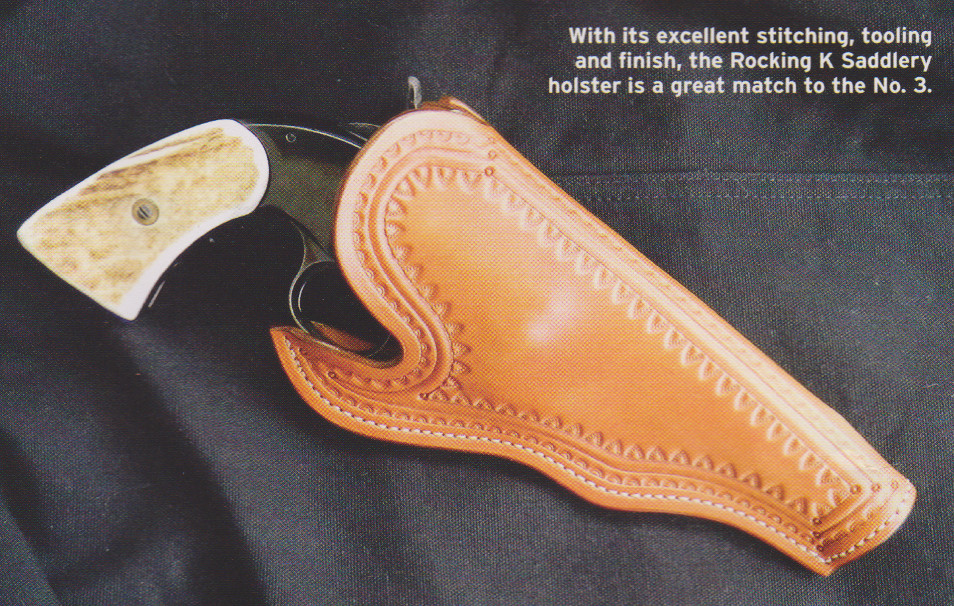 "Every revolver needs a good holster, and for this Taylor's & Co. handgun I used a cowboy holster of the Slim Jim type. This is a practical choice, as the revolver rides low in the holster, affording good retention. Yet, when ready to shoot, a tug puts the revolver in your hand. The holster features a bit of border tooling and first class stitching, fit and finish. The maker is Rocking K Saddlery (Rockingksaddlery.com). I have used several holsters from this maker, always with complete satisfaction."

Excerpt and photo from September/October 2015 Canadian Firearms Journal. Article by Bob Campbell. Used with permission.


---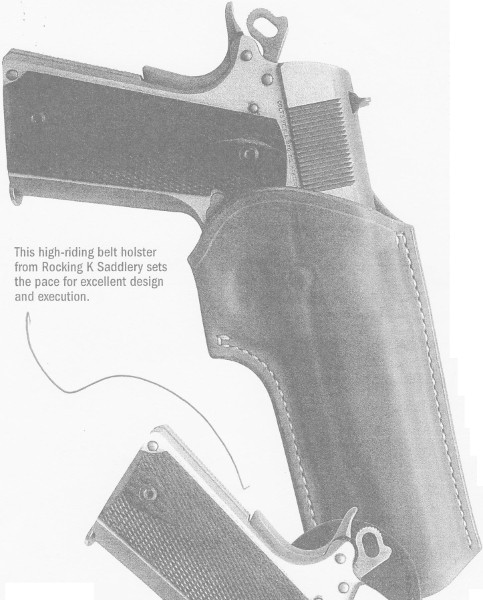 "The belt scabbard illustrated from Rocking K Saddlery is among the best of the breed"

"When it comes to single-action shooting I am a fan, but I never confuse historical firearms with combat firearms. Competition of any type is a wonderful thing and it brings gun people together. The holster from Rocking K Saddlery, by Frank Kaiser, is a great holster of the type. This holster is 'legal' for Wild Bunch competition in the genre of single-action shooting. It is also a good field holster for those who hunt eith the .45 or .38 Super. Personally, I simply enjoy owning and using such a well-made holster."

Excerpt and photo from 2015 Gun Digest Shooter's Guide to the 1911, 2nd Edition. Used with permission.


---

Howdy Frank!

I'm the fella from the NCOWS Convention who bought the Plains Moccasins "Boots" & the military half-flap holster. Your work takes second place to NO one! I have accumulated quite a bit of leather goods over time and from the quality & price on the items I already have plus the items I see here on your site that I feel I MUST have, I'll be getting more! Seriously, the Moc/Boots are wonderfully comfortable and the holster is exactly as I wanted.
Thanks again for spending your time with me making sure everything was as I needed during the waning hours of the Convention.

Sincerely
Jeff Bailey
NCOWS for Life, SASS Life, NRA Life, Hiram's Ranger, Free & Accepted Mason - Lodge 753 - (former) M1A1 Abrams Tank Sqdn. Master Gunner & Platoon Sergeant


---

&quotHI Frank,
This is to let you know how pleased my son (SCOTT) and I are with the workmanship and attention to detail that you put into the pair of (father and son) holsters we received. I will be ordering holsters for other pistols in the future!
Thank You, Sincerely,
Al (ALPO) Pollnow"
Milwaukee, WI.


---
From the The Shooter's Log on Cheaper than Dirt by Bob Campbell:

"When packing the Ruger, I have used a couple of excellent holsters. For cowboy-action shooting, the Rocking K Saddlery holster gives the ultimate cowboy look, although few cowboys purchased a holster as nice as this Cattlebrand. The Mexican loop holster was easily the most popular in the Old West, although the Slim Jim and others also had their days.

The Diamond Loop Cattlebrand holster is very distinctive and quite different from the average Mexican loop in style and appearance. The holster is well made of good material and should last for many years. It is, incidentally, a fine field holster as well as a cowboy-action holster."
---

Dear Frank,

My sincere apologies for not replying sooner. This holster is simply beautiful, and I am simply ashamed I did not find the time to write and acknowledge that immediately.

I have probably owned well over 100 holsters in my day, probably more. Everything from military surplus and cheap Hunter holsters, on to better factory leather such as Desantis, Bianchi, and others, Lots of higher grade factory stuff too, such as Lawrence Leather and El Paso (from the old days). There have been any number of custom made holsters here as well, to include Simply Rugged, a few by Barranti, and many others, even one from John Bianchi (a Patton style for a SAA!).

Gotta tell you my friend, you rank up there with the best, and that is no exaggeration. I am extremely pleased with this piece of art, and proud to own it. I see this as the beginning of a long relationship!

Thank you! May you and yours enjoy a safe, healthy, and Merry Christmas!

your friend in Walla Walla,
Tony Aveni


---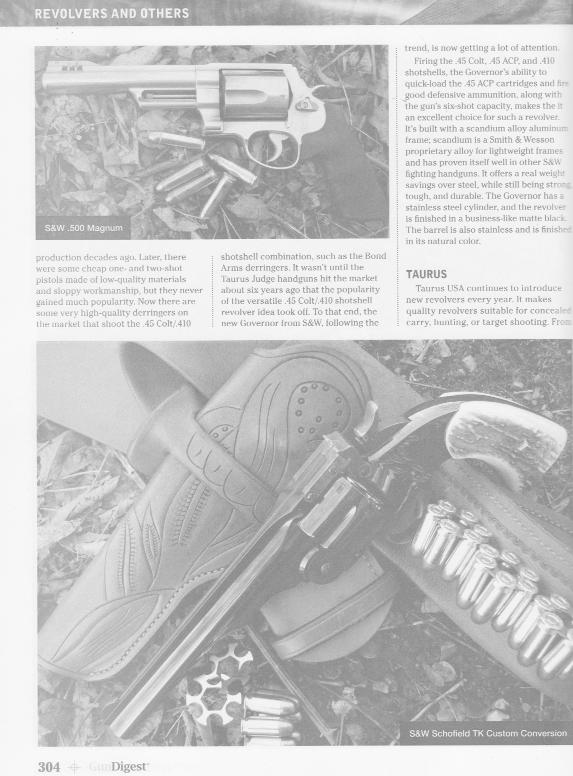 Photo from 2013 Gun Digest, 67th Edition. Used with permission.


---

Frank,

I got home from work last evening to see the Duke Rig, tried it on immediately to see that it fit perfectly, went to my friend's house to show him how nice it was, and how well it fit my guns, and how well it was made. My friend just got a custom gun belt made as well, so we compared, and I must say your work is extremely well done - top notch.
This entire experience of ordering the Duke Rig, to follow up communications, to the actual quality of the product delivered has been the best purchasing experience I have encountered. The picture on your site was good, but seeing the actual belt in real life is just amazing. Undoubtedly your workmanship is impeccable, your assiduous attention detail is obvious and I could not be any happier than I am now with this purchase.
I wore the belt last night for about two hours with both empty guns in the holsters to start the break in period. The belt fits the center hole for me and is exactly the feel I wanted. The bullet loops were spot on in size as I inserted the .38 rounds. I really like how I do not see any stitching on the inside suede of the belt where the bullet loops are placed. The coloring of the leather is impressive, and really makes for a great look with the gun grips. All the leather is beautiful, and the belt is a nice thickness so the entire rig feels durable and functional.
I greatly appreciate your work on this Duke Rig, and it is refreshing to know that there are still craftsman out there this day and age that take pride in doing quality work.

Sincerely,
Aaron K.
Mount Washington, Kentucky


---

Hey Frank.....Received the Ranger belt today and all I can say is OUTSTANDING!!!!! Perfect fit (third hole) and finish, matches my holster perfectly! Can't wait to show this rig off at the range. Your work is absolutely beautiful! Looking forward to my next order.....
Regards,
John C.
Independence, Kentucky.


---

Troy Freund is a professional photographer here in Milwaukee, who up until recently was also a neighbor. He asked if it would be possible to do a local business blog on me and the business. I was immediately on board with the idea and very appreciative of the gesture. Troy came over to take photos and try and soak up as much knowledge as he could in the short time that he was here. This is the direct result of that:
http://midwesteditorialphoto.wordpress.com/2012/03/13/local-biz-rocking-k-saddlery/
A link to Troy's personal website can be found on my Links page.


---
Thanks to Jeff Quinn and the GunBlast.com crew for allowing me to put these video clips and photos on my site.

"For carrying extra moon clips for most revolvers, there are pouches made by many of the holster makers, but for carrying extra loaded clips for this Schofield, I found that the Rocking K Saddlery holster rig that I reviewed in our last "Tools of the Trade" video has the cartridge loops spaced perfectly to accommodate the loaded moon clips. The Rocking K rig is built upon a nice, flexible money belt design. I like a good money belt, as they flex better than does a thick, stiff belt. The holster itself is stiff enough to allow easy re-holstering, without being overly thick. This is a very comfortable rig, expertly crafted, and finished in an antique type light brown, which looks great with the S&W Schofield. The Rocking K holster rig is comfortable, functional, and authentic."
---

Frank,
The holster came in today and I could not be happier, the quality is beautiful. Once again I want to thank you for taking the time to make this holster exactly the way I wanted. It is a shame more people do not practice the business model you do where the ideal of extraordinary customer service is demonstrated, not just advertised or talked about. You have gained a loyal customer for all future holsters.

Thank you again,
Ken Hall
Edmond, Oklahoma


---

Hi again, Frank! I was just re-reading the testimonials on your web site and I had to add my two cents worth. The quality of your work is fantastic! I, too, was a little skeptical of buying a holster from the internet but my first purchase prompted the purchase of a custom order Hickok rig. I won't buy a holster from any other maker. The leather is incomparable. Your advice, patience and talent are greatly appreciated. This is by far the best outfit I own and I'm telling everyone to go to your web site and look at Rich's Hickok rig! Thanks again and you have another lifetime customer.

Best regards,
Rich Benedict (Micah McCain, SASS # 46226)


---

Dear Frank:

The holster arrived about 30 minutes ago - Thank you for the Priority Mail shipment, and very fast delivery.
The fit, finish, and attention to detail for this item are all extraordinary!! This is the best fit and most beautiful leather holster that I have ever owned!
Even the aroma of the leather, the dye and leather finish you applied to the holster is superb. As soon as I removed holster from the shipping box the fragrance permeated my entire office.
You truly are using the best leather available; I have never seen leather like this and you were absolutely correct that lining is not necessary with this holster. The inside finish is better than any of my other lined holsters including chamois skin, glove, suede, calf skin and pig skin leather.
The revolver fits like a glove, nice and snug but it is still easy to remove without being loose in the holster. Even the leather tie-down for the hammer, or hammer thong, is beautifully executed with first class leather that has the perfect friction fit. In addition, the polished & blued screws that secure the belt loop to the cross-strap are beautiful and far superior to any rivet attachment.
I can't thank you enough for this world-class piece of leather work and I am most pleased that I decided to go with your product instead of any other leather maker. The photographs of your holsters are what convinced me to select your Duke model holster but after seeing this piece of artwork in person, you just cannot convey the full impact in a photograph.
I could not possibly be happier with this holster. Thank you very much.

With sincere appreciation,
Robert Huston
Las Vegas, Nevada


---
"A couple months ago, I was in need of a crossdraw holster for a Walker revolver and happened to see one on e-Bay. I'm not a real big proponent of buying gun leather from this source because some of the folks who post there tend to stretch the truth a bit in their descriptions. I decided to take a chance and won the holster. That's how I met Frank. When I received it, I was more than impressed. Fit and finish were impeccable and the Walker dropped into it like a glove. The heavy weight leather made it hang right and it just felt good. Now, with such a nice holster, you can't just throw it on any belt, so I contacted Frank and we worked out a few details and within a couple weeks, I had a hand made, carved cartridge belt to match the Walker holster. Now, I am a big guy, but even with needing a 58 inch belt, Frank was able to provide it quickly and very reasonably priced.

Since then, I have ordered and received additional holsters for my Remington Outlaw, Colt Open Top and 1911A1, all of the highest quality. A couple months ago, my grandson started showing an interest in SASS and NCOWS shooting so naturally I turned to Frank for his rig also. In a very short period I had a border tooled belt and basket weave loop holster for his 1873 Colt clone. I presented it to him at his first competitive shoot and he was thrilled. Actually, as I told Frank later, I had never seen anyone kiss a holster 'til then.

All of Frank's goods are first rate in material, fit and finish and I would and do recommend him regularly to anyone who needs a starter rig or an upgrade to what your wear now."


Walt Waitkus
aka Mingo Frank
SASS #85687
NCOWS #3243

---

"I want to thank you again for doing such a great job on my rig. I couldn't be more happy with the quality carvings you did as well as how everything was made. I thought it was great how you added the black around the buckle as it helped the black bullet holders flow even better with the rest of the rig. I am very happy with not only my rig but also with your great customer service and advice. You have another customer for life and I look forward to doing more business with you."

Luke Gust


---

"Frank
Thank you for the Wade saddle it is great. Very comfortable to ride, I have used it quite a bit in the last few days and I really enjoyed it. I can tell you have put a lot of time and effort into making a quality product. I would highly recommend your saddles to anyone that was thinking of buying a saddle. Great quality, fast shipping, and comfortable, can't beat a deal like that."

Thanks Again,

Todd Powers, Idaho


---

"Howdy Frank,
I would just like to take a minute and tell you how pleased I am with the three holsters that I purchased from you. I have been shooting and carrying a pistol for a living for thirty five years now. In that time I have used and thrown most of the holsters I bought away, due to their lack of durability and lookability. Your holsters are the best that I have found to date. The fit of the holsters were right on with no sloppiness, they were as if they were molded directly from my pistol. And the look is really great, you can tell just by looking at these holsters they are top shelf quality. I was also impressed with the quality of the leather, very thick. I have not found any other company who uses this fine of leather. Keep up the good work, and you have a customer for life. Thanks again!"

Regards,
James (DOC) Young Ph.D.


---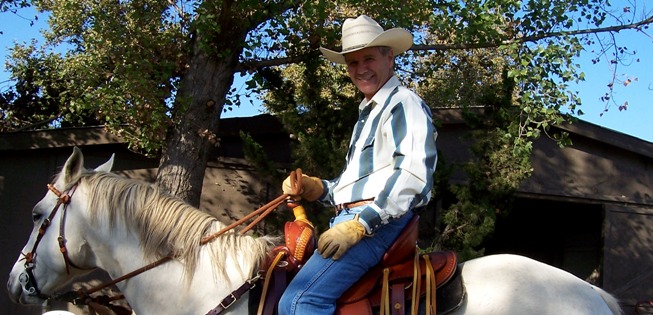 "I purchased a custom saddle, breast collar and flank cinch from Frank. I own a number of custom made saddles made by very skilled individuals. The quality of Franks work, his work ethics, and his desire to satisfy his customers are second to none. Needless to say I am very please with the level of fit and finish and the excellent comfort he has built into my saddle. Thanks Frank for all your effort."

Your friend,
Tim Jones
Temecula, California


---

"Frank of Rocking K Saddlery is great to do business with! Excellent custom leather work on the holsters for my 6 1/2" Beretta Schofields, matching Belt and knife Sheath. Great price, fast shipping, excellent all around service."

"Bandera Kid"
SASS Alamo Area Moderators


---
"I love the chaps they worked great for the ride didn't get poked by the brush at all they are perfect the shipping was great they got here vary vary fast and they were in great condition the workman ship on them was extreamly high quality"

Sincerly
Austin Kasper
---